8 ideas for a stylish roof terrace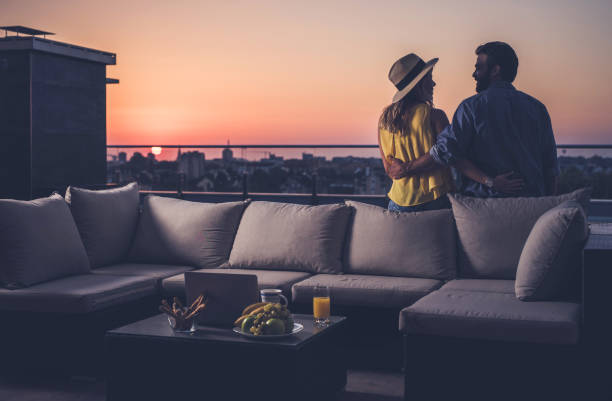 To today's homebuyers, a penthouse apartment instantly conjures up an image of refinement and exclusivity. "Lofts" have become a staple of contemporary urban architecture, designed to be snapped up by those seeking an exclusive home that oozes luxury.
Terraces, meanwhile, are generally reserved for relaxation: a place to while away a peaceful hour and dispel the mental and physical fog of the day. For penthouse apartments, a terrace is a covetable addition, allowing you to step straight from your living room into the fresh air.
A roof terrace is a highly versatile space in terms of layout and décor – so much so that you'll forget you ever longed for a garden. As well as offering a direct source of natural light and extensive outdoor space, many afford spectacular panoramic views of the city skyline or even a stunning natural landscape.
No matter how much space you have to work with – whether you want to pack in as many elements as you can or simply create your own little magical hideaway – there are a thousand and one ways to blend style with function and achieve a harmonious, energising space perfect for those long summer days.
How to give your roof terrace that special sparkle
1. Divide up the space
If you're lucky enough to have a very spacious roof terrace, make the most of every square metre and sketch out a flowing, cohesive design. You might opt to split the space in two: one half for dining and one for relaxation. Each "room" can have its own distinct style, but make sure you have an overarching theme to draw them together. Alternatively, consider adding an outdoor kitchen with a barbecue or even, space permitting, an open-air swimming pool. This kind of terrace can be a great asset to your home, bringing various elements together in one handy space and providing an ideal setting for get-togethers with family and friends.
2. Don't forget the need for shade
While time outdoors can be a tonic, the sun is not always your friend. Too much exposure can take the shine off what would otherwise be some very pleasant downtime. Make sure you design in some shady spots, at least in certain key areas. There are a number of options: aluminium pergolas, steel arbours or retractable awnings, for example. Any source of shade will make for a much more inviting space. You could also think about fixing sunshades to any tables.
3. Introduce some permanent furniture
A generous area dedicated to kicking back and spending time with friends can be a permanent feature of your roof terrace. Make the most of the available space by choosing a corner for some outdoor seating, perhaps with built-in storage space. That way, you'll have somewhere to stow away additional chairs and folding tables when not in use.
4. Protect your privacy
The point of having a roof terrace is to enjoy your downtime in style. In cities or other densely populated areas, buildings tend to be very close together, and so your private space may be on view to many inquisitive eyes. If you have something a lot more secluded in mind, consider adding a wicker screen or creating a wall of hanging plants. These will take care of snoopers while adding an attractive feature to enhance your space.
5. Give some thought to flooring
Easy to overlook, flooring is an important part of your design scheme. The right flooring can help create an endless variety of looks and can also be used to mark out different areas. Try combining wooden tiles with artificial grass, which can either be laid down over the existing flooring or installed as a permanent feature. You can then add weatherproof rugs designed especially for these kinds of outdoor spaces.
6. Embrace the views
There's no better backdrop to a super-chic roof terrace than the city or natural landscape it overlooks. If your terrace rejoices in a jaw-dropping view, make the most of it and open up the field of view as far as possible. Try to reserve the best angle for the main lounging space, so you can always look forward to a relaxing and restorative experience.
7. Don't hold back with colours and lighting
Plan your colour scheme carefully – for both walls and accessories, you're aiming for a balanced, harmonious palette. Remember, roof terraces come into their own on sun-drenched summer days. When choosing a colour combination, think about the time of year when you'll use it the most, and look for tones that really pop in bright sunlight. When the warm summer evenings come around, you might find yourself lingering long after sundown, and so the right lighting is essential. LED lights and a scattering of decorative and functional lamps will give you that magical after-dark vibe, turning your favourite corner of your home into an exclusive night spot.
8. Little things can make all the difference
When revamping a small roof terrace, your first priority should be optimising space. Every available corner, no matter how insignificant it appears, can play a role in adding a dash of A-list luxury to your home. The first step is to decide how you want to use the space – once that's clear in your mind, it's time to shop for accessories that will give it your own exclusive touch.