AQ Acentor undertakes its first investment of the year, purchasing three residential plots in Malaga's Zeta District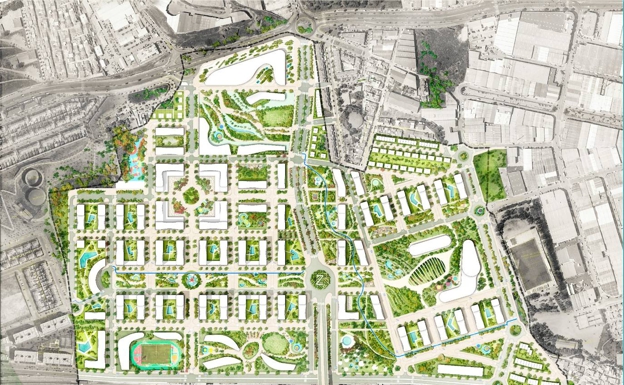 The development of the projects will involve an investment of over €30M, for the construction of a total of 120 of dwellings
With this operation, AQ Acentor increases its investment in Malaga to over €430M
Malaga, 18 January 2023: AQ Acentor increases its stake in Malaga. The company announces the purchase of three plots for the development of 120 dwellings in the Zeta District, the innovative western area of the city. With this new investment of over €30M, the company increasesits commitment with the region, exceeding the €430M landmark.
These three projects will generate around 500 jobs, including direct and indirect, favouring the procurement of local partners, fostering the economic and social development of the surrounding area.
In words of AQ Acentor's CEO, Sergio Gálvez: "athe team is extremely happy about this new investment. Malaga is, and will continue to be, one of our preferred locations for property development, both residential and logistics., "Thanks to the great work carried out by the Urbania team, he added, Zeta District unites all the principles upon which we base our company's strategy, such as innovation, environmental sustainability and energy efficiency. It's a privilege for us to be able to participate in Zeta District's residential consolidation.
In 2022, the company began to strengthen its leadership team with the support of its investors and with the clear target of boosting its growth within the Spanish market. On this regard, Gálvez emphasised: "We kick- off 2023 with this new investment, which has been made possible thanks to the hard work of AQ Acentor´s team. We continue working focused on future investments."
AQ Acentor began its operations in Malaga in 2017. Since then, and after today's announcement, the company has built up a portfolio of 16 plots to develop over 1,400 homes and a logistics project of over 72,000 m2, surpassing the €430M invested region wise. 2023 is sure to be an important year for the company in the province of Malaga, thanks to a significant milestsone in iconic projects including the two AQ Urban Sky towers, La Reserva del Rincón, and Estepona Gardens.
Zeta District, Malaga's new generation neighbourhood
AQ Acentor has chosen Zeta District as the location for its new investment in the city of Malaga. This urban development and residential destination incorporates cutting-edge elements such as a 5G data network, photovoltaic panels, urban gardens, kilometres of cycle paths, etc. For its concept, design, and execution, it now stands as a landmark for the new urban generation in Spain.
The new sector will provide around 3,500 homes, over 70,000 sqm of green areas where people can enjoy the open air and sports, as well as 125,000 sqm dedicated to facilities.